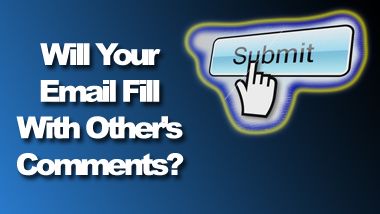 I load your blog in Firefox and read one of your fascinating articles. I decide that yes, I will give you a comment for the work you have done, expressing my opinion and maybe receive a free back-link to www.bradblogging.com (NoFollow is a great plugin to remove WordPress's "No-Follow" policy, giving your readers a free link to their website when they comment). Of course I have to fill in the standard "Name, Email, Website" boxes with my real information to continue to comment. Once I'm done I will submit it.
So when I have seen all of the latest articles on your site, away I go stumbling or doing other things. Perhaps even check my email! So after I'm done logging in, I see 20 new messages from your blog with the same title post that I commented on! Realizing that I commented on a blog that automatically subscribes me to any other comments posted on that particular article, I angrily delete the comments and never comment (or perhaps visit) again on that website.
Nothing can drive a visitor more crazy than commenting on a post and using their time to input their opinion, to then be blind-sidedly subscribed to all the comments their after. The WordPress C.M.S. (Content Mangegment System) comes with the option of subscribing to comments at the end of the comment area with a little "check-box" that you can select.
So in an attempt to gain more comments on the posts that your write, DO NOT automatically subscribe your faithful commenter's (if there is such a word) to the ones after theirs, because it causes an unnecessary distraction in their Inbox. If they are interested in what other people have to say, they will come back!!