First came Google back in 1998, and rose to everyday knowledge by around 2003 – when it really started to become popular. Used in countless movies and billions of people per day, it is the ultimate search engine clearly destroying every other one.
Then came Myspace in 2004 which traffic has been increasing yearly by about 2% of the internet population (and still is). Despite viruses and other server glitches, it has still been the ultimate place to meet new people for many years.
After the majority of people got bored of Myspace they searched for an alternative and found Facebook which started in 2006 which increased their traffic to 6% in only 2 short years!
These sites are great and draw people to their sites for reasons..The ability to search things and the easy to use interface, so my question today is: "What is the next Myspace/Digg/Facebook multi billion dollar website?"

Technorati seemed like it had been a Digg equivalent at one time but just has lost its spark on the blogger world. After reading an article about Technorati having decreased traffic and users every day, I thought, "Why didn't he just sell the website when it was at its prime and reap in the cash?". After searching this on none other than: Google, I found that he did and had no buyers. So whats a moderator gonna do? Waiting it out seems like a logical answer but too bad that hes been losing traffic ever since 2007. Check out the chart below!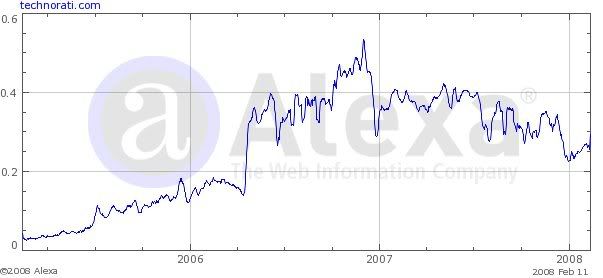 It seems that popular websites have simple layouts (observe facebook for example) to achieve maximum focus on their user's content, pictures, stories, etc. So the next one would have to include something along those lines.
It also appears that the popular websites have the ability to customize "The User Space" of their profile. An easy to navigate and edit website would also attract the techies and programmers to implement "their spark" into their profiles..
The last ingredient to a popular website would be something original… which is hard to do these days. With billions upon billions of webpages on the internet, being original is almost like panning for gold. You think you have a good idea and BOOM! Theres already one. Too bad! An idea that hasn't been done before would attract people.
Tune in tommorow, or better yet subscribe to not miss my exciting content!